Discover more from Gluten-Free Guidebook
On the road with Hilary Davidson
In the Shadow of the Acropolis
A perfect, traditional Greek dinner
Seeing the Acropolis up close was a dream come true for me. No matter how many times you view a place in photographs or videos, there's nothing like experiencing it in person. And the Acropolis is particularly alluring because you catch sight of it from different angles as you stroll around the sprawling metropolis that is Athens. Day or night, it's a joy to behold.
The Acropolis holds a series of treasures. The entry gate, called the Propylaea, was designed to inspire awe. Just beyond it is the Temple of Athena Nike, which represented the goddess as the victorious protector of her namesake city. Step further inside and you'll find the Erechtheion — a temple famous for its six stone guardians, the Caryatids — and the Parthenon itself, dedicated to Athena the Virgin. Built between 450 BC and 440 BC, it was the largest Doric temple in Greece.
If you want to see the glorious statues and carved reliefs that once graced the Parthenon, there are two places to look. One is the British Museum, which houses the Elgin Marbles, a collection that includes friezes from the Parthenon and one of the Caryatids from the Erechtheion. (The return of this collection is the subject of ongoing debate and discussion between Greece and Britain.) The second place to look is the stunning modern museum at the foot of the Acropolis.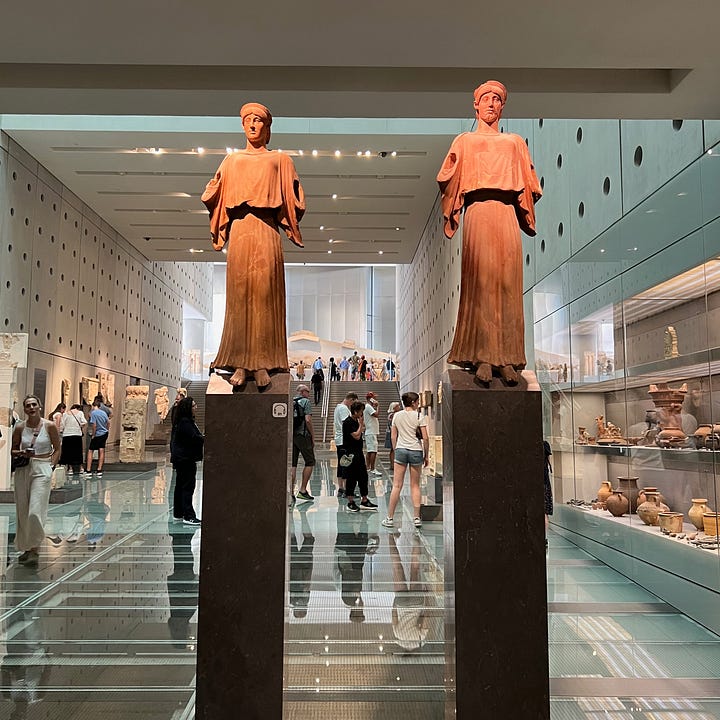 Built atop Roman and Byzantine ruins, the Acropolis Museum opened in 2009 to showcase both art and history. It does so beautifully, with original statues excavated from under the Parthenon, and with impeccable copies of the works that were removed by Lord Elgin. The top floor of the building is devoted to the carved marble panels of the Parthenon. Even though you know you are looking at copies (the museum is scrupulous about noting that), the scenes — depicting warring deities, centaurs, Amazons, and the fall of Troy — are breathtaking.
There was another wonder at the foot of the Acropolis, just across from the museum. That's where I found a restaurant called Greek Stories, where literally every item on the food menu is gluten-free. (There are a couple of beers on the drinks menu that aren't, but there's also wine, cider, and gluten-free beer.) Friends, I had the best evening there, savoring fried saganaki cheese with fig jam, a fava-bean dip with capers and caramelized onions paired with pita bread, and a traditional moussaka with ground beef and béchamel sauce. For dessert, I went with a classic baklava.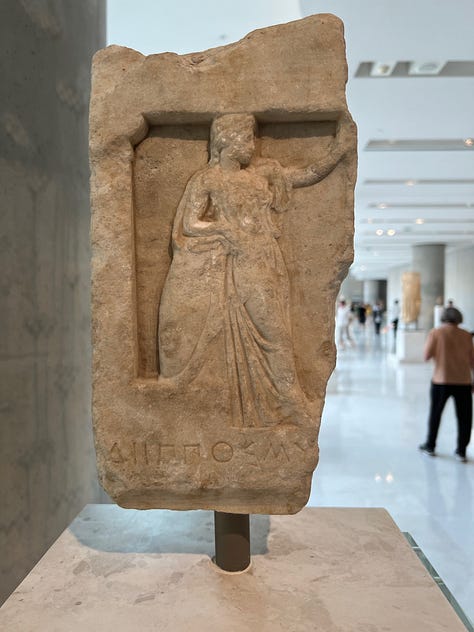 Afterwards, as I was talking with one of Greek Stories' owners, it hit me that this was the first time I'd had baklava in 19 years. (If you bake — or watch the Great British Baking Show — you know that phyllo is brutal to work with. This celiac-safe version was pure magic.) The food was simply incredible. What fascinated me was that Greek Stories didn't start out as a gluten-free restaurant when it opened five years back. That change took place last year. If you visit Athens, Greek Stories should be on your must-visit list. You can check out the menu in advance, and there's even a Facebook group. (Yes, I joined. I need to prepare for my next trip there!) It was casual and very affordable, yet it felt luxurious.
That day of exploring had me thinking about originals and copies. When I was diagnosed with celiac disease, it felt like much of what I could eat was only a subpar version of foods I'd once loved. Greek Stories was a reminder that sometimes, you don't need to compromise.
Gluten-Free Guidebook is a reader-supported publication. To receive new posts and support my work, consider becoming a free or paid subscriber.